Welcome to the 'Invisigun Reloaded' Wiki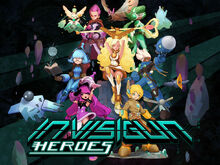 Invisigun Reloaded is a multiplayer, single-screen stealth battle arena with a twist:
everyone's invisible!
Predictable grid-based movement ensures that you know where you are, but other players don't. Vigilance is key as environmental tells such as footprints and other disturbances will point out careless cadets. Using special abilities and firing your Invisigun will also momentarily give you away. Along with items and
powerups
, these mechanics reward stealth, trickery, reflex, forethought, deception, bluffing, and awareness. A variety of lovingly-made environments, maps, game modes, and abilities combine for high replayability and a deep path to mastery. - Developed by
Sombr Studio
Available on:
Itch.io, Steam and Humble Store - Windows / macOS / Linux
Join the Discord to talk about the game, organize online matches, and hang out.
Features
Challenge yourself in the Hero's Journey: individually tailored hero campaigns filled with puzzle rooms, skill challenges, and boss fights
Compete with up to 4 players or bots on a single screen
Mix and match local and online players
Control your hero using gamepads or the keyboard
Enjoy hand-crafted pixel art made with care
Battle your friends using a variety of heroes, each with unique special abilities
Explore 70+ maps spread across 6 planets, each with unique interactivity, hazards, and weather effects
Choose from a variety of game modes playable on every map for deep replayability
Customize the game mode conditions with match modifiers
View hilariously revealing instant replays that expose tactics
Share instant replays as animated GIFs
Groove to the custom pulsing, ambient soundtrack composed by Paper Sound
General Strategy
Game Modes
Survival
Last hero standing wins a point each round
Hunter
Every kill earns a point
Zone Control
Maintain control of a small area to score points
Deadline
Most kills within a time limit wins
Carrier
Survive the longest while carrying the token
Land Grab
Claim the most territory on the map to win
Beast Tamer
Tame beasts to collect coins
| Name | Type | Ability |
| --- | --- | --- |
| Aether | Pounder | Ground Pound stuns players and blocks shots on pound |
| Carmen | Builder | Place up to two blocks that reflect enemy shots |
| Cronus | Bomber | Call in a lethal air strike that explodes orthogonally |
| Djaan-Khe | Trapper | Lays down traps that snare, reveal and slow opponents. They deactivate when players hold still for a brief period of time. |
| Epi | Ghost | Create a 'ghost' Epi that can trick players. The ghost can shoot and stun other players. |
| Iris | Dash | Dashes quickly around the map |
| Phoebe | Teleport | Place a teleporter then jump back to that location from anywhere. Can teleport last shot through the teleporter while it is still in the air. |
| Proteus | Drone | Launch a scanning drone that passes that can detect players. Once a player is tagged you can activate it to slow the tagged player(s). |
| Ronin | Reaper | Slash to absorb shots or wound and slow players.  Each shot absorbed gives Ronin one extra power shot. |
| Selene | Jumper | Can jump over a single wall/block. Can double jump and change direction in the air. |
| Violet | Orb | Can shot from an orb that passes over map objects and is sent out in front of Violet. |
| Zephyr | Teleshot | Shoots a shot that transports Zephyr to the object it hits while leaving a moveable clone of himself behind. Zephyr is vulnerable while in transit. |
Planets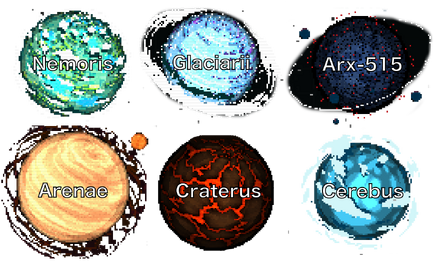 Game Play Trailer